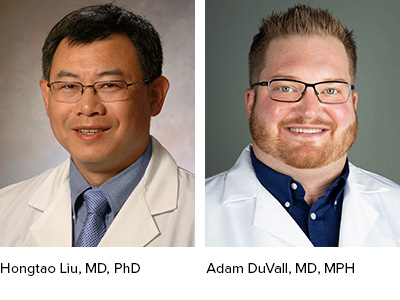 Join us as we speak to Dr. Hongtao Liu and Dr. Adam DuVall from University of Chicago Medicine, about current and emerging cellular therapies for acute leukemias. These innovative therapies include CAR T-cell therapy, modified Natural Killer (NK) cells and stem cell transplantations. In this episode, we discuss how these groundbreaking therapies have changed the landscape of treatment for acute leukemias. The doctors share what they are excited about in the future, citing how clinical trials are advancing therapies and how cancer centers can better serve the unique needs of adolescent and young adults (AYAs) with acute leukemias by utilizing a holistic and comprehensive approach.
Podcast: Play in new window | Download
Subscribe: Google Podcasts | Spotify | Pandora | Blubrry | JioSaavn | Podchaser | More
CLICK HERE
to participate in our episode survey.
Mentioned on this episode:
Additional LLS Support Resources:
---

Support for this episode is provided by University of Chicago Medicine.