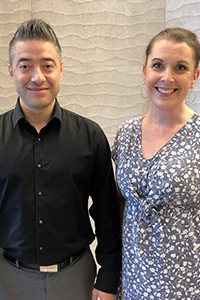 Please join us as we speak about CAR T-cell therapy with Dr. Carlos Silva, a Moffitt Cancer physician at Memorial Healthcare System in Pembroke Pines, Florida. In this episode, we explore the latest advances and what the future holds for CAR T-cell therapy.
This comprehensive view of CAR T-cell therapy will give blood cancer patients and their families hope. Through the utilization of targeted therapies, we can now see a future filled with better outcomes and potential cures.
Podcast: Play in new window | Download
Subscribe: Google Podcasts | Spotify | Pandora | Blubrry | JioSaavn | Podchaser | More
CLICK HERE
to participate in our episode survey.
Mentioned on this episode:
Additional LLS Support Resources:
Support for this program is provided by: Allogene Therapeutics; Bristol Myers Squibb; CRISPR Therapeutics Ltd; Janssen Oncology & Legend Biotech; Kite, A Gilead Company and Novartis Pharmaceuticals Corp.