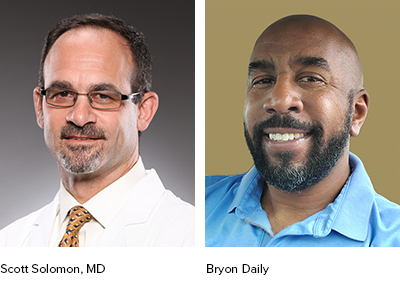 Join us in this next installment of our series, Patient-Doctor Perspectives, where we explore a diagnosis from the view of a patient and doctor. In this episode, we speak to Bryon Daily, a myeloma survivor and Dr. Scott Solomon from Northside Hospital in Atlanta, GA. Diagnosed in 2018, Bryon shares his experience living with myeloma after an autologous stem cell transplant. Bryon has also started working at LLS in our Myeloma Link Program where he is helping to close the healthcare disparity gap in communities of color. Dr. Solomon then delves deeper into myeloma treatments, and what is new on the horizon for myeloma treatments. He also discusses how clinical trials and having greater treatment options are providing hope to those diagnosed with myeloma.
Podcast: Play in new window | Download
Subscribe: Google Podcasts | Spotify | Pandora | Blubrry | JioSaavn | Podchaser | More
CLICK HERE
to participate in our episode survey.
Mentioned on this episode:
Additional LLS Support Resources:
Support for this episode provided by GlaxoSmithKline and Janssen Oncology Pharmaceutical Companies of Johnson & Johnson.