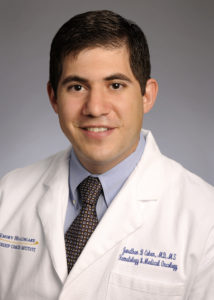 Like any therapy that is administered in oncology, there is great promise but also, unfortunately, several toxicities and side effects that must be understood and monitored. Join Alicia and Lizette as they speak with Dr. Jonathon B. Cohen, an Assistant Professor in the Department of Hematology and Medical Oncology at Emory University School of Medicine in Atlanta, Georgia. On this episode, Dr. Cohen explains the potential side effects of chimeric antigen receptor T-cell therapy, also known as CAR T-cell therapy. He describes how side effects may change over time and how a patient's family members and caregivers can identify some of the more subtle neurologic toxicities that can potentially lead to more severe side effects. Dr. Cohen also shares great information about what patients can ask their doctors about CAR T-cell therapy and things to consider when having this conversation.
Podcast: Play in new window | Download
Subscribe: Google Podcasts | Spotify | Stitcher | Blubrry | JioSaavn | TuneIn | RSS | More
CLICK HERE
to participate in our episode survey.
Mentioned on this episode:
Additional LLS Support Resources:
Support for this episode provided by Celgene; Kite, A Gilead Company; and Novartis.