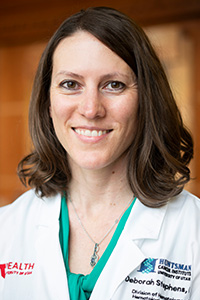 Join us as we sit down with Dr. Deborah Stephens from the University of Utah, as we discover the latest breakthroughs in treating chronic lymphocytic leukemia (CLL). We also gain valuable insights into enhancing patient's quality of life
In this episode, Dr. Stephens emphasizes the importance of effective communication with your healthcare team, unveiling strategies that not only optimize disease management, but also minimize the impact of side effects. Your path to empowered long-term care with CLL begins here.
Podcast: Play in new window | Download
Subscribe: Google Podcasts | Spotify | Pandora | Blubrry | JioSaavn | Podchaser | More
CLICK HERE
to participate in our episode survey.
Mentioned on this episode:
Additional LLS Support Resources:
Support for this episode provided by: AbbVie Inc.; BeiGene USA, Inc.; Genentech, Inc. & Biogen.