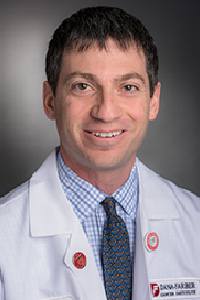 Please join us as we speak to Dr. Matthew Davids of Dana-Farber Cancer Institute. In this episode, Dr. Davids discusses current treatments for chronic lymphocytic leukemia (CLL) and the exciting possibilities for the future using immunotherapies.
Dr. Davids shares how the goal of treatment is long term remission and quality of life. Since 2010, BTK Inhibitors, CAR T-cell therapy and other treatments have come on the market and have increased the possibilities for patients to live a long life with CLL.
Podcast: Play in new window | Download
Subscribe: Google Podcasts | Spotify | Pandora | Blubrry | JioSaavn | Podchaser | More
CLICK HERE
to participate in our episode survey.
Mentioned on this episode:
Additional LLS Support Resources:
Support for this episode provided by BeiGene USA, Inc.; Bristol Myers Squibb; Genentech, Inc. & Biogen; Loxo Oncology at Lilly and Pharmacyclics, An AbbVie Company & Janssen Biotech, and Thomas D. Oxley Fund for CLL Patient Education and Support.