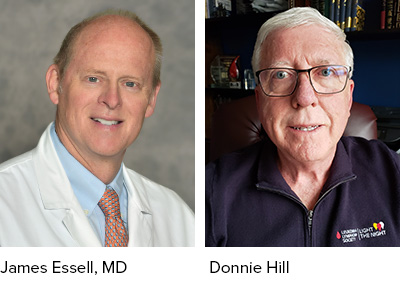 Join us as we speak with Donnie Hill, a chronic lymphocytic leukemia (CLL) / small cell lymphocytic lymphoma (SLL) patient and his doctor, James Essell, MD, of Oncology Hematology Care, Inc. in Cincinnati, OH. In this episode, Donnie and Dr. Essell discuss the importance of shared decision making (SDM) and how they worked together to determine the best treatment course for Donnie's CLL/SLL. Shared decision making is a key component of patient-centered healthcare that balances risks and expected outcomes with patient preferences and values. Be sure to tune into this real-world example of how SDM works and how patients can have open communication with their healthcare team.
Podcast: Play in new window | Download
Subscribe: Google Podcasts | Spotify | Pandora | Blubrry | JioSaavn | Podchaser | More
CLICK HERE
to participate in our episode survey.
Mentioned on this episode:
Additional LLS Support Resources:
Support for this episode provided by AbbVie Inc. and Genentech, A Member of the Roche Group.