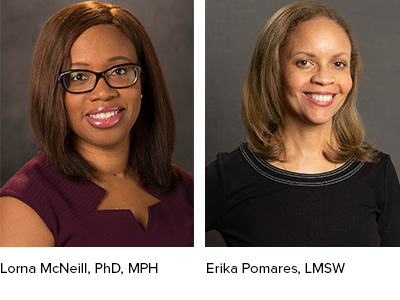 Join us as we speak to Dr. Lorna McNeill, a Professor and Associate Director for Health Disparities and Community Outreach at MD Anderson Cancer Center in Houston, TX, along with a special guest from our LLS Patient and Community Outreach team, Erika Pomares. In this episode, Dr. McNeill shares how people of color, particularly African Americans, have disproportionate rates of cancer incidence and death, but are also more likely to face racial bias in healthcare and clinical trials. She offers potential solutions to improve the healthcare outcomes for these underserved communities. Dr. McNeill and Erika also discuss the importance of community outreach, and how programs, like LLS's Myeloma Link, have improved access to care and trust in the medical community.
Podcast: Play in new window | Download
Subscribe: Google Podcasts | Spotify | Pandora | Blubrry | JioSaavn | Podchaser | More
CLICK HERE
to participate in our episode survey.
Mentioned on this episode:
Additional LLS Support Resources:
Support for this episode provided by Genentech, Inc. and Biogen; Pharmacyclics, An AbbVie Company & Janssen Biotech.