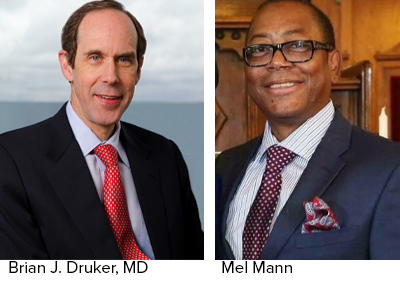 Join us in this next installment of our series, Patient-Doctor Perspectives, where we explore a diagnosis from the view of a patient and doctor. To celebrate the 100th episode of The Bloodline with LLS, we will be speaking with Mel Mann, a chronic myeloid leukemia (CML) survivor and Dr. Brian Druker, a physician researcher at Oregon Health Sciences University (OHSU).
Mel shares how Dr. Druker's research saved his life with the drug, Gleevec®, and we get to hear his inspirational message of how one person can make a difference. Dr. Druker discusses this revolutionary therapy, how it transformed the lives of CML patients like Mel, and how targeted treatments are continuing to transform how we treat cancer.
Podcast: Play in new window | Download
Subscribe: Google Podcasts | Spotify | Pandora | Blubrry | JioSaavn | Podchaser | More
CLICK HERE
to participate in our episode survey.
Mentioned on this episode:
Additional LLS Support Resources:
Support for this episode provided by Pfizer.